The EPICompliance Complete Compliance Suite (CCS) covers mandated yearly education certification for HIPAA Privacy, HIPAA Security, ACA/Medicare, and OSHA. Each course presentation is designed to cover the mandatory annual basic training for healthcare professionals and business associates.
We recommend you use the most updated version of either Google Chrome, or Mozilla Firefox browsers to complete these Education and Certification processes. You may also use your computer's speaker or a headset for the audio of each lecture.
To complete your education requirement for each of the courses, do the following:
Listen to and attend the course slide set.
Take and pass the post-course quiz (70% is required to pass).
Obtain the Certificate (Certificates May be downloaded and printed. And all Certificates are automatically stored in the Document Management System).
See the steps below for details on how to complete or accomplish the HIPAA Privacy, HIPAA Security, ACA/Medicare & OSHA Courses, Tests, and Certificates:
From the Complete Compliance Suite Customer Console, under the Training and Support column, you can either hover over the cursor or click on the Courses & Education tab.
Click on My Courses tab, and choose from any of the four courses that you have not completed yet.
Attend and finish the corresponding lecture. Be informed that for the 2017 series of courses, you will need to listen to the audio while following through each of the slides of the lecture.
The length of each lecture varies, and may range from 45 minutes to 1 hour. However, the speed of completion of the lecture can be adjusted by pausing and/or clicking on the Previous & Next buttons as the attendee desires.
Once the entire lecture is completed, you will then be directed to take the corresponding test.
You must gain at least 70% grade to pass the 10 question test to receive a Course Completion Certificate.

You may attempt this test as many times as you need to pass.

When you pass the test, you may click on the link to generate the certificate.
You can either print out the certificate or upload it to your folder via the Document Management System.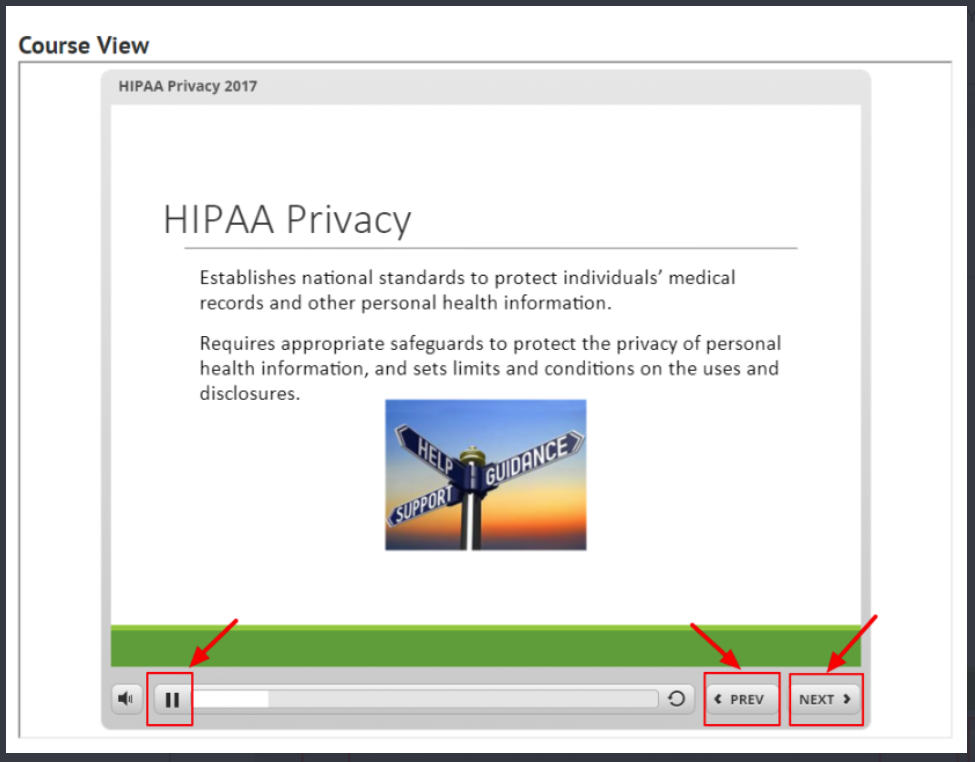 Should you have any questions or concerns, contact us via the following:
Chatbox/window on your Complete Compliance Suite screen.
Telephone: 877-560-4261
Email: support@epicompliance.com